A musical journey of Folk Music and Poetry
Join us for a musical celebration of traditional folk music and conversation with Christopher C. King
Sat, April 3rd, 11:00 AM ET
Live Online Event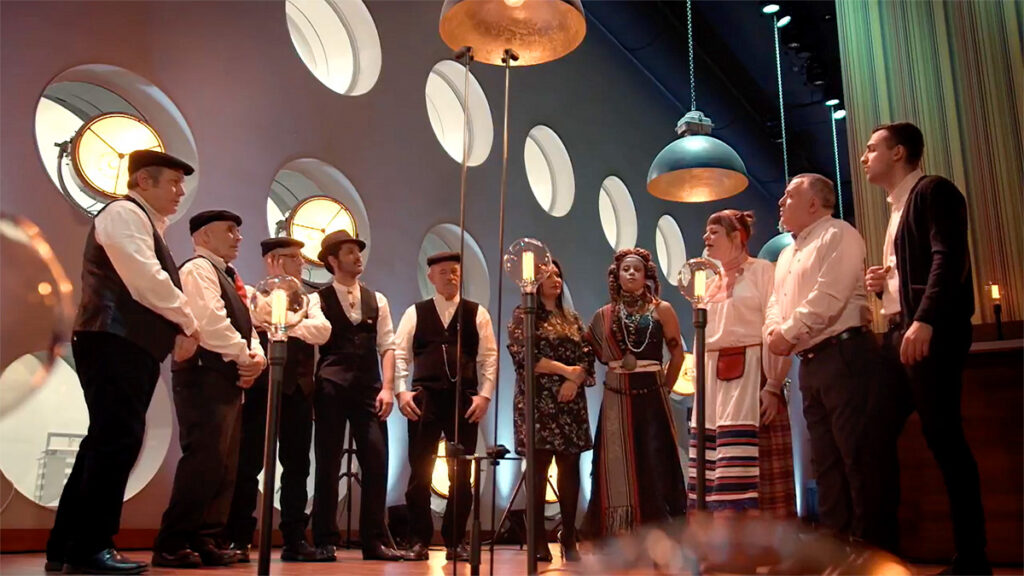 Join us for a musical celebration of traditional folk songs and folk poetry  and conversation with Christopher C. King — a journey through cultures and vintage sounds of Europe's oldest surviving musical traditions.
The program features music from Voxtra, a Belgium based musicians group that brings together five incredible vocal traditions, exceptional musicians showcasing Albanian iso-polyphony, the cantu a tenore of Sardinian countryside, Beko blues singing of southern Madagascar, Finnish yoik and rune singing and Flanders narrative folk songs, in the Encounter of Vocal Heritage.
Grammy-winning producer and musicologist, Christopher King, will be spinning rare 78 rpm vinyl discs of early Albanian traditional songs and improvisations from his home studio in Virginia.
The pandemic has silenced the instruments, at least temporarily, and social distancing has led to questions of what will become of this singular musical tradition? An old-time genre, Folk Music has survived thousands of years through gatherings, where song and dance still glued communities together across generations, mostly learned by listening to one another, passing the tradition from one generation to the next. defined as it grows out of an "oral" not written tradition, that is founded on a "continuity" with the past.
In a gramophone shop in Istanbul, King uncovered some of the strangest—and most hypnotic—sounds he had ever heard, profoundly and moving, full of yearning, seeming to tap into a primal well of emotion inaccessible through contemporary music. The songs, King learned, were from Epirus, an area straddling southern Albania and northwestern Greece.
The program will be hosted and moderated by director Dino Korca, remarks and introduction by Nicolas Polet from the Delegation of Flanders to the USA.
The program is dedicated to cultural and language preservation, one of the oldest languages in the world, the Albanian Folk Music, Europe's old surviving folk music, and the traditional Albanian polyphonic, inscribed on the list of UNESCO's Intangible Cultural Heritage of Humanity for safeguarding.
Saturday, April 3, 2021
11 – 1 pm
Live Virtual Q&A
Tickets
This program is free and open to all. Advance registration is required. All registered participants will be sent a link to participate through Zoom.
Support
Our virtual events are currently free and open to all. By becoming a member or making a contribution today, you can help us continue to produce vital, relevant, and accessible programming this year and beyond
Please note that we will use the webinar format for this program; no preparation or previous knowledge is required to attend. You will receive a reminder email the day of the program with the link and password to join the talk. You are welcome to join the waiting room starting approximately 15 minutes early and will be admitted to the talk promptly.