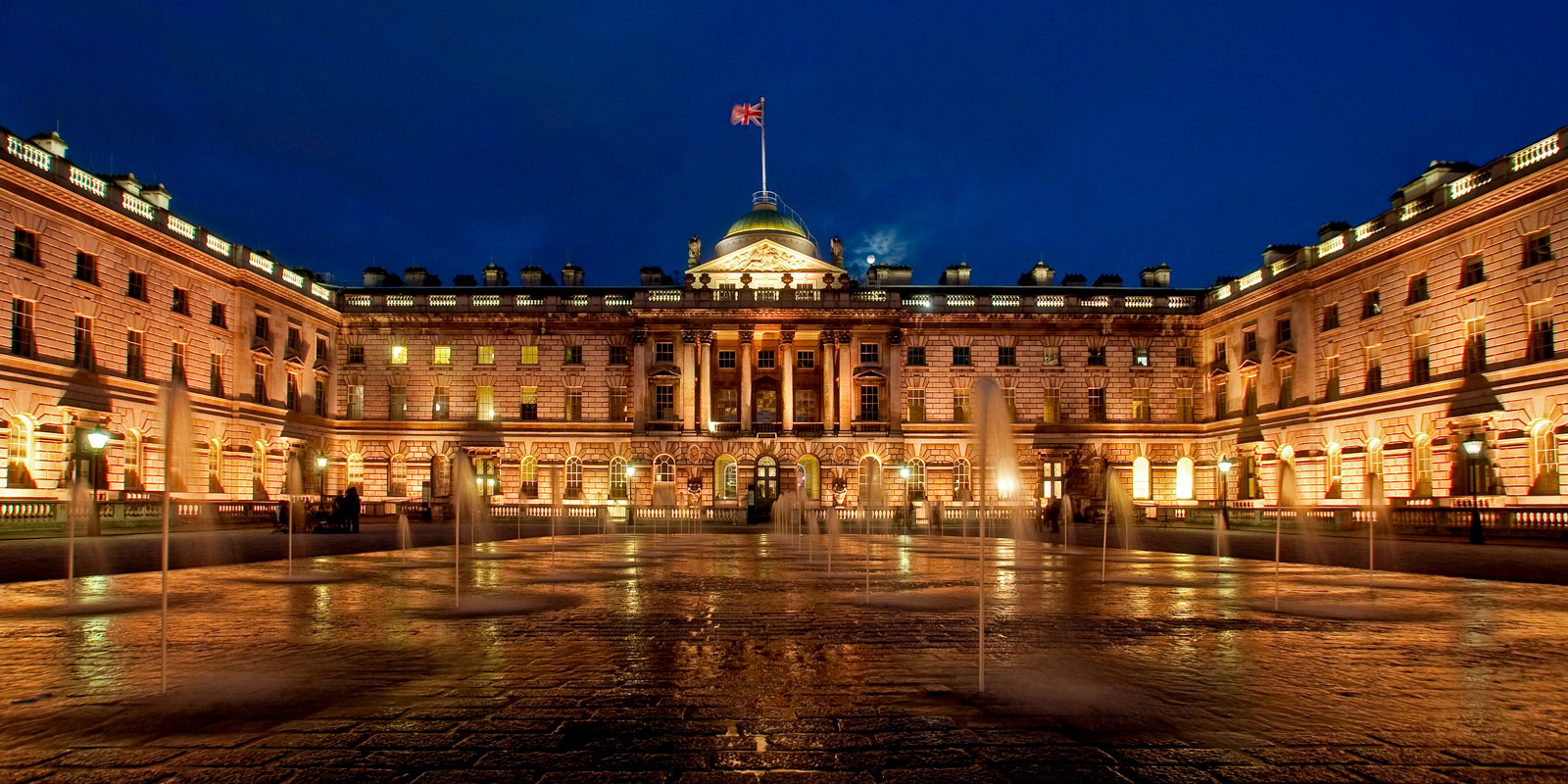 LONDON, UNITED KINGDOM — Albanian Institute New York is pleased to announce that it will represent Albania at the inaugural London Design Biennale 2016. Modeled after the Architecture and Art Biennales in Venice, the event has a range of contemporary perspectives, exploring big questions and ideas about sustainability, technology, migration, renewable energy, cities, social equality, and much more. More than 35 countries from all six continents will present new installations and commissioned works on the theme of Utopia by Design. Taking over the entirety of Somerset House, a center for the arts and culture, the Biennale takes place from September 7 – 27, 2016.
ABOUT ALBANIAN CONTRIBUTION
The Albanian contribution to the Biennale, a site-specific sculpture installation for the courtyard of Somerset House is a concentric arrangement of stainless steel columns and benches that are designed to encourage both self- reflection and solidarity, referencing utopian city planning. The mirrored surfaces of the taller columns create reflections, creating myriad opportunities for interaction. The circular layout of the benches aims to facilitate democratic discussion and exchange, demonstrating the need for community and unification in any ideal city.
Dino Korca curator of the Albanian Pavilion says: "The installation strives to reference a place of harmony between the external and the internal, between the self and the society". The configuration echoes both the radial planning of Renaissance cities and a theory proposed by the French philosopher Louis Marin. Marin believed that every political system was haunted at its center by utopia, an unconscious and repressed dream of better that occasionally returned to disrupt the present.
"Artists have been imagining utopia since the term was coined centuries ago", says Dino Korca "we wanted to create a response to the theme that goes beyond aesthetics, appearance or the product alone", to address and question the individual's place within society.
Albania's response explores the value of utopian thought in times of uncertainty. With reference to the current migration, the core of the installation bears the engraved outline of Europe's borders, considered by many refugees as a modern day utopia. For Korca, utopia is a journey rather than a destination. He says: "There is no such thing as a perpetually perfect place, because life itself is but motion, always in a state of change"
ABOUT THE CURATOR
Dino Korca (b. Prishtina, Kosovo) is Director of the Albanian Institute New York, overseeing its contemporary programing across all disciplines, working through collaborative partnerships with some of the biggest museums and organizations in New York and internationally. Since 2014, Korca also serves as President of the European Union National Institutes for Culture (EUNIC) in New York, part of a global coalition of cultural institutions and diplomatic services from the EU. He is well regarded in the art world, a recipient of a number of fellowships, and awards and a recognized cultural leader shaping the dialogue on leveraging the power of art, culture, and creativity to advance a positive transformation. Korca holds a Bachelor of Arts from DIT, and is a BCL graduate from the University College Dublin School of Law, Ireland.
ABOUT SOMERSET HOUSE
A unique part of the London cultural scene, Somerset House is a historic building where surprising and original work comes to life. From its 18th-century origins, Somerset House has been a center for debate and discussion—an intellectual powerhouse for the nation. Somerset House is today a key cultural destination in London in which to experience a broad range of artistic activity, engage with artists, designers and makers and be a part of a major creative forum—an environment that is relaxed, welcoming and inspirational to visit while providing a stimulating workplace for the cultural and creative industries.
ABOUT LONDON DESIGN BIENNALE
London Design Biennale 2016 is devoted to the theme "Utopia by Design" Taking over the entirety of Somerset House, including the Edmond J. Safra Fountain Court and River Terrace, it explored big questions and ideas about sustainability, migration, pollution, energy, cities and social equality. Visitors enjoyed engaging and interactive installations, innovations and proposed design solutions from 40 countries, cities and territories—all in an immersive, inspiring and entertaining tour of the world.
Sir John Sorrell CBE is president, Ben Evans is executive director, and Dr. Christopher Turner is director of the London Design Biennale 2016. London Design Biennale's International Advisory Committee and Jury 2018 are Paola Antonelli, Adelia Borges, Tristram Hunt, Hadeel Ibrahim, Mitra Khoubrou, James Lingwood MBE, Ana Elena Mallet, Professor Jeremy Myerson, Kayoko Ota, Jonathan Reekie CBE, Lord Richard Rogers of Riverside CH, Sir John Sorrell CBE, Ben Evans and Christopher Turner.
ABOUT ALBANIAN INSTITUTE NEW YORK
Albanian Institute is a New York based contemporary art and cultural institution, working to support and promote the arts in all disciplines, provide a forum for cultural exchange and dialogue, and create educational opportunities in the US and beyond. The institute achieves its mission through a vibrant program of presentations, exhibitions, films, performances, activities in education, cultural forums, events and talks and partnerships around the world.
Albanian Institute New York is member of European Union National Institutes for Culture in New York, a network of cultural organizations and diplomatic services from the EU serving globally.
For further information, contact our press team at: [email protected] , visit institute's website at www.albanianinstitute.org and follow the institute on www.twitter.com/albaniannewyork, www.facebook.com/albanianinstitute and www.instagram.com/albanianinstitute
*Featured Image: Somerset House, London, United Kingdom. Photo by Darrell Godliman.